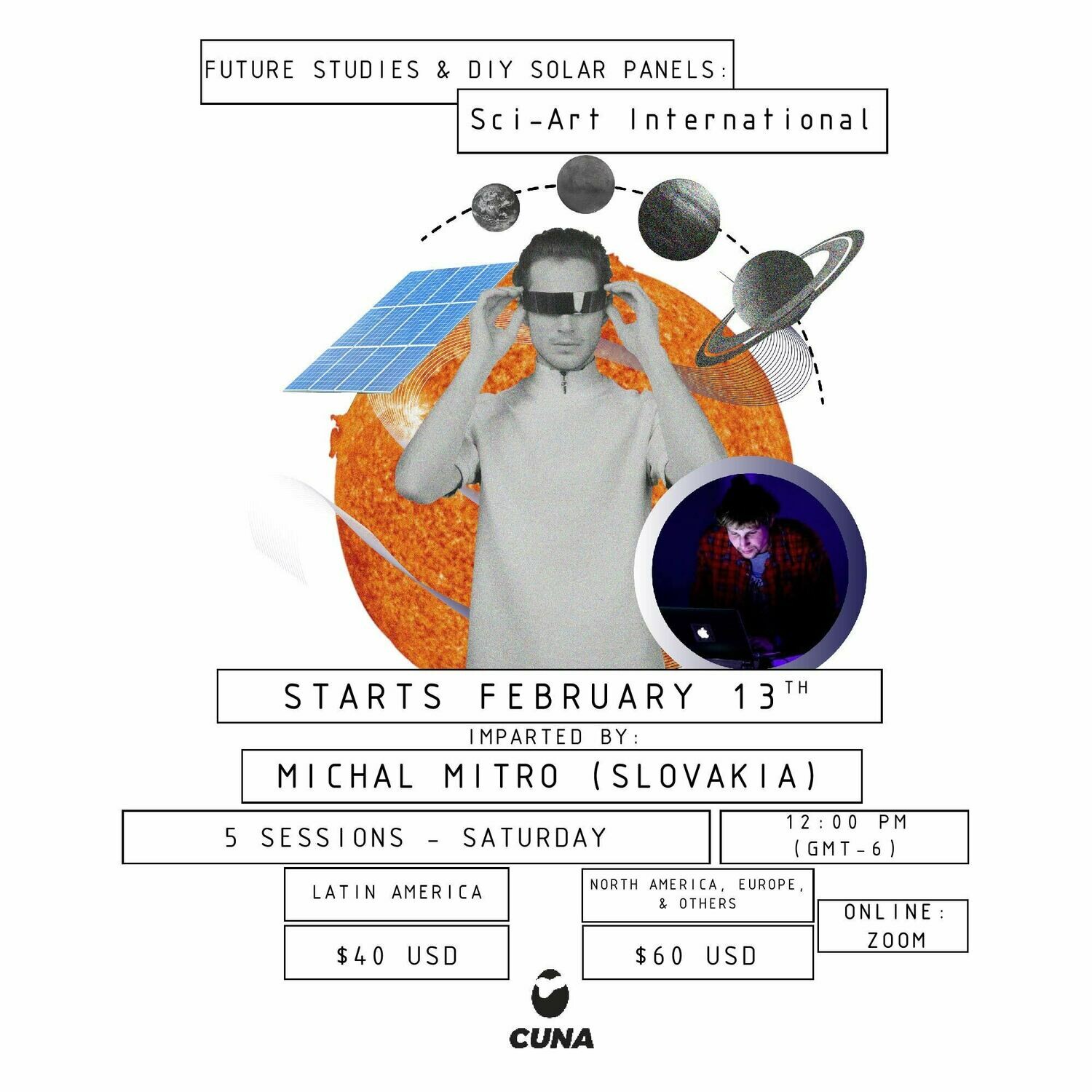 Future Studies
REF FUTURESTUDIES21
Información del producto
Starts: Starts 13 of February
Lenght: 5 classes (10h.)
¿Schedule?: Saturdays 12-2 pm. (GMT-6)
Pricing: Latin America 40 USD= 800 pesos MXN; Europe, North America & others 60 USD=1200 pesos MXN (The currency that appears in our store is converted to Mexican pesos.)
Where: Zoom
DESCRIPTION
In this class we will focus on the concept of "The Future". We will explore how this notion fluctuates through out the history, how extremely political it is, and most importantly how we may imagine the future as we don't know it.
Our research into the future shall be informed by both natural and social sciences with only methodological restrain being our own imagination and curiosity. By means of critical and speculative thought we will attempt to construct a place in time and space that is ecologically and socially just, that is sustainable, that is not anthropocentric, and that is respectful to other non-human agents on our planet. For that we shall start with "The Energy" - a single feature that is shared by everything and everyone in the universe - which literally makes a truly universal reference point. In my personal I looked at how phyiscs and thermodynamics may to large extent take precedence over politics. This shall be our starting point, but frome there our trajectories shall flow into any direction.
As part of the workshop, we will also learn how to design and construct fully working and scaleable renewable energy power system. To be specific, I will practically demonstrate how to build a solar power system. The elements the solar system shares with other renewable energy power systems is mostly similar and can therefore be abstracted to various applications such as wind power, hydro power or geo-thermal power.
EDUCATOR
Michal Mitro (Slovakia) is a visual artist, composer and performer working across a wide field of media. Coming from a Social Science background he aims to doubt and discuss the status quo of the "naturally given", "normal", and "traditionally right". His another and rather different field of interest is mediating trans-sensory experience appropriating information from one sensual category into another and building light and sound art installations catered for specificity of given space. With his colleague sur sur they founded "the new new media project – The Manifesto" which aimes to deliver AV works that trully make most of connecting power of sound with that of light and moving image.

Education and training-wise Michal Mitro holds bachelor of Psychology and Sociology since 2013. Thereafter, he studied Sculpture and Sonic arts at University of Tasmania, finished a year course in Gamelan (traditional Indonesian music) at ISI Yogyakarta and underwent not so amazing year doing not so classical composition at Janacek Academy of Performing Arts in Czech Republic. Currently, Mitro is busy building large scale / audio-visual / interactive installations hoping to eventually finish a masters degree (Intermedia and Digital Arts at University of Technology, Czech Republic).
Mitro has exhibited, performed and workshoped (both hosting and attending) internationally, mainly in Australia, Indonesia, Czech Republic, Slovakia and on the Internet.
Guardar este producto para más tarde